Ring Information
Metal Color
Silver
Metal Type
S925 Silver
Recipient
For Her,For Wife,For Mom
Style
Side Stones,Twisted,Unique
Stone Carat
3.5 to 4.0 carats
Package Weight (g)
50.0000
Rhodium
Yes. Give Platinum appearance.
Nickel Free
Yes
Gem Information
Stone Shape
Round Cut
Stone Type
White Sapphire
Stone Color
White Sapphire
Sidestone Type
White Sapphire
Sidestones Cut
Round Cut
Side Stone Size
1.2-3.0 mm
Main Stone Size
8*8 mm
Mainstones Weight
3.75 CT
Stone Total Weight
4.97 ct.tw
Sidestones Weight
1.22 CT
Number of Mainstones
1
Number of Sidestones
114
Joancee Jewelry Customized Service
Customized service of this item is available, please contact our customer service to place orders. Please notice that: the change of the stone color and plating color is available while the material of gemstones and metal cannot be accepted.
Joancee Jewelry Making Process
https://www.joancee.com/review/product/like/
Review by

Heidi

(Posted on 5/5/2021)

Far more then what we expected. Our kids helped us pick it out and they seen it and said it's princess style!
Will definitely be coming back for more for every occasion.

Review by

Casey Mancill Tomlinson

(Posted on 5/4/2021)

I am in love with my rings.

Review by

Melissa D.

(Posted on 3/24/2021)

This ring exceeded my expectations! It is absolutely STUNNING! Beautiful details all over and super shiny. The engraving on the inside is a bit small but I still love it! Shipping was fast too! I paid extra for 3 day shipping but it arrived in about six days. Not bad at all! I highly recommend this ring!

Review by

Markee21

(Posted on 3/16/2021)

It is BEAUTIFUL!! I'm completely obsessed. I'm super satisfied and couldn't be happier with the purchase.

Review by

Aly

(Posted on 3/12/2021)

I love it. It took a while but worth the wait.

Review by

Grace

(Posted on 3/5/2021)

Don't mind my hideous nails.. but this is the ring we ordered and got yesterday

Review by

charvet

(Posted on 2/27/2021)

Absolutely love this ring! It's so gorgeous and beautiful. Exactly what I was looking for!

Review by

Jessica

(Posted on 2/4/2021)

This Round Cut White Sapphire 925 Sterling Silver Twisted Halo 3-Piece Bridal Sets, is absolutely stunning, I've gotten so many compliments and it's super affordable

Review by

Ro

(Posted on 1/22/2021)

I cannot say in words how satisfied I am with this beautiful ring ..I actually looks better than a real diamond setting ..Took about 2wks total & the expedited shipping was well worth it ..Honestly the only not so great thing I can say is I didn't receive my "free gift" nor gift bag ..My husband loved his ring so much I couldn't get a pick in the box still ..FYI it's stamped 925 also PAY EXTRA FOR ENGRAVING ITS SO WORTH IT

Review by

Misty

(Posted on 1/17/2021)

This ring is more gorgeous than I imagined!! Took about 2 weeks to receive and was totally worth the wait! I'm beyond satisfied and have already gotten a lot of compliments...

Review by

Samantha

(Posted on 1/15/2021)

Just received my ring today. So beautiful! Took a while to receive my shipping confirmation but once I emailed them, I was updated and a few days later, I got my ring! It's perfect!

Review by

Toby

(Posted on 1/11/2021)

Got mine today. it's so beautiful. I loved it

Review by

glamlife

(Posted on 11/15/2020)

The amount of compliments I've received on this ring are crazy. Everyone thinks it's real, and constantly tells me how gorgeous it is! I've worn this ring daily now for over two weeks and it hasn't turned my finger green, and I have extremely sensitive skin. This is all around an incredible set, and value

Review by

Becca Morin

(Posted on 10/13/2020)

Got mine today I'm in love it's perfect! Definitely would recommend

Review by

Eason

(Posted on 9/14/2020)

This ring is STUNNING! Its exactly what he was looking for. The quality is fantastic, it looks exactly like what you see in the pictures. Absolutely love mine!

Review by

Resa Perez

(Posted on 9/8/2020)

My fiancee just popped the question yesterday, took forever to get here but I love it

Review by

Liz

(Posted on 8/21/2020)

I couldn't be happier, my fiancé did an amazing job and I love how he decided to add an engravement!! I love, love, love it & him!!!

Review by

Kimberly ONeill

(Posted on 8/12/2020)

I am absolutely delighted with this beautiful ring. Shipping took a while but so worth the wait

Review by

Renea Marie

(Posted on 7/8/2020)

Love mine! It's a 3 piece set so 3rd band will get placed on our wedding day!

Review by

Moyer

(Posted on 5/2/2020)

Love my new Joancee ring! It's absolutely gorgeous.

Review by

Ervin Hill

(Posted on 4/10/2020)

Very beautiful! It looks even more beautiful in person. I was very happy with the quality. For anyone shopping in this price range, you will not be dissatisfied

Review by

Joan Royer

(Posted on 12/8/2019)

Beautiful! Looks just like the picture! I got this as a first anniversary/Christmas present and I couldn't be happier! Thank you so much!

Review by

Jami Smith

(Posted on 11/24/2019)

Ring is even more beautiful in person! It is beyond perfect! Love it❤



Review by

Brittney Pickens

(Posted on 4/8/2021)

I love it! It's so pretty and I have gotten so many compliments on it. Shipping did not take long as it comes from outside of the US.

Review by

Deanne

(Posted on 3/13/2021)

Considering this is custom-made when you order it, the wait is not that long. I had emailed a few times to check and got fast responses and a tracking number. The ring is gorgeous and worth the wait! The center stone looks brilliant cut, I cant even get a pic to do it justice. Im ordering another ring from them today. Very happy!

Review by

Brittan

(Posted on 1/24/2021)

i am beyond happy with this ring. it took just about 2 weeks to get to me & i couldn't be happier with my purchase! the ONLY wish is that they came in 1/4 sizes bc I'm a 6 & 3/4 and i had to order a 7 and it's just a hair big but it'll be fine

Review by

Amanda

(Posted on 6/29/2020)

Absolutely love my ring! It is gorgeous!

Review by

Courtney

(Posted on 6/11/2020)

I ordered this ring 5/16 and paid the $25 for the expedited shipping. I got it today, June 11th, it didn't make it in the 3 days, it got delayed with Fed ex.
But besides that, I love the ring? It's beautiful and looks just like the pictures.
The size fits just as I was expecting, I ordered a 6.5.

I was worried to order, but I am thoroughly impressed

Review by

Estrella

(Posted on 4/1/2020)

Review by

Slayden

(Posted on 12/23/2019)

AMAZING!! So beautifully done. Amazing customer service as well!


Review by

Abby

(Posted on 11/30/2019)

This ring is absolutely BEAUTIFUL!! It came packaged well and came exactly three weeks from the order date.
Get $5 Rewards with 3 steps from JOANCEE:
1 .Please upload photos that you are wearing the jewelry by order.
2. If your photos are approved, they'll be live on site. And you will get a $5 Rewards via Paypal within 1-7 working days.
3. The explanation and right to use the photos will be final in Joancee.com.
General

Where is your company located?

Our main office is in Los Angeles, California, while design and manufacturing are headquartered in Hong Kong, and our warehouses are in Malaysia, Dubai, Guangzhou etc.

Is this a legit company?

Please, rest assured that our company is both legal and formal. Joancee.com has been verified by Norton Secured Seal and using HTTPS security protocol. You can pay via PayPal for your order and your payment will be safeguarded. Moreover, you can also look up for real life pictures from our gallery or Facebook page. So we are legit and safe to use.

Do you have any retail locations?

In order to eliminate the extra costs associated with physical storefronts (rent, insurance, staff), we currently only have an online store.

Jewelry

Are the stones real diamonds?

Most of our rings are made of 925 sterling silver and the stones are synthetic white sapphires. Unlike natural gemstones that are mined from the earth using large machinery, explosives, and unsafe working conditions, our stone was developed to be more durable with better optical characteristics than of a diamond while maintaining an ethical standard to protect our environment. You can visit '

The Stone We Use

' page to know more.

Will this jewelry turn my skin green?

Of course no, our jewelry won't turn your skin green. Jewelry that turns your finger green is made of copper, while our rings are made of 925 sterling silver, and the quality has been verified by International Institution SGS.

For the plated jewelry, I worry the color will fade off.

Please DON'T worry. We have a rigorous quality control process to ensure the quality of all of our jewelry. The plating will not fade off naturally. In the rare event that something is wrong with your jewelry, please immediately contact our customer service so we can help solve your problem. If a problem should arise and within the time limit of your warranty, we will make an exchange with you to replace your jewelry. You can visit

30 Days Return

and

One Year Warranty

policy to learn more details.

Orders & Payment

How do I make changes after my order has been placed?

If you receive an order confirmation email and notice a mistake with the order, please contact us as soon as possible. If it's after business hours, leave us a clear and detailed message with your full name, phone number, and order number (if available) via email.

Which payment methods do you accept?

We currently accept payment via all major Credit Cards, Paypal, Western Union & Bank Transfer. If your payment isn't shown at checkout page, please contact us.

How do you secure my payment information?

Joancee is using HTTPS security protocol sitewide and do not process any of your payment information ourselves. Meanwhile we recommend you to use Paypal.

Is my personal information kept private?

We are totally committed to protecting your privacy. We will not disclose information about our customers or visitors to third parties except where it is part of providing a service to you. For more information, please read our

Privacy Policy

in full.

Shipping & Returns

Where do you ship to? How much of the shipping cost?

We can ship our products to every place in the world with international logistics. The rates and shipping time differs from country to country, please visit

Shiping & Delivery

page for more information.

How long until I receive my jewelry?

Total Delivery Time= Processing Time + Shipping Time
Processing time differs from product to product. Some popular styles can be shipped out within 24 hours, while engraved or custom orders may take up to 9-15 business days. The estimated processing time is listed on the product page.
Shipping time depends on the shipping method you selected. For more information, please check

Shipping & Delivery

.

Will I have to pay customs duties, taxes or other fees?

You will not be charged any consumption tax. However, you may need to pay the customs duties by yourself. For more details, please visit

Customs & Tax

in full.

What if I DON'T like my jewelry after receive it?

Okay, DON'T worry about it. We promise an easy 30 days return policy. If you don't like the jewelry unused and in its original packaging. Please contact us first and return it as instructed. Upon acceptance of your return, the funds will be issued to your original payment account. Any promotional gifts must also be returned with your returned item.

What is your return policy?

Currently we offer an easy, hassle-free 30 days return policy. If you are not completely satisfied with your purchase, you may return it for a refund within 30 days of the purchase date. This is our

30 Days Return

policy.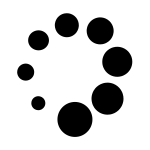 | | | | |
| --- | --- | --- | --- |
| US (JOANCEE) | UK | Inside Diameter | Inside Circumference |
| 3 | F | 14.1mm | 44.2mm |
| 3.5 | G | 14.5mm | 45.5mm |
| 4 | H | 14.9mm | 46.8mm |
| 4.5 | I 1/2 | 15.2mm | 48.0mm |
| 5 | J 1/2 | 15.7mm | 49.3mm |
| 5.5 | K 1/2 | 16.1mm | 50.6mm |
| 6 | L 1/2 | 16.5mm | 51.9mm |
| 6.5 | M 1/2 | 16.9mm | 53.1mm |
| 7 | N 1/2 | 17.3mm | 54.4mm |
| 7.5 | O 1/2 | 17.7mm | 55.7mm |
| 8 | P 1/2 | 18.1mm | 57.0mm |
| 8.5 | Q 1/2 | 18.5mm | 58.3mm |
| 9 | R 1/2 | 19.0mm | 59.5mm |
| 9.5 | S 1/2 | 19.4mm | 60.8mm |
| 10 | T 1/2 | 19.8mm | 62.1mm |
| 10.5 | U 1/2 | 20.2mm | 63.4mm |
| 11 | V 1/2 | 20.6mm | 64.6mm |
| 11.5 | W 1/2 | 21.0mm | 65.9mm |
| 12 | Y | 21.4mm | 67.2mm |
| 12.5 | Z | 21.8mm | 68.5mm |
| 13 | Z+ | 22.2mm | 69.7mm |
| 13.5 | Z+1.5 | 22.6mm | 71mm |
| 14 | Z+2 | 23mm | 72.3mm |
| 14.5 | Z+2.5 | 23.4mm | 73.5mm |
| 15 | Z+3 | 23.8mm | 74.8mm |
How To Measure
1. Cut a piece of paper into a long thin strip.
2. Wrap the piece of paper around your knuckle, which is the largest point the ring will have to be able to get over.
3. Mark where the two ends of the paper first overlap with a marker.
4. Measure the length with a ruler.
5. Refer to ring size chart to determine what ring size is.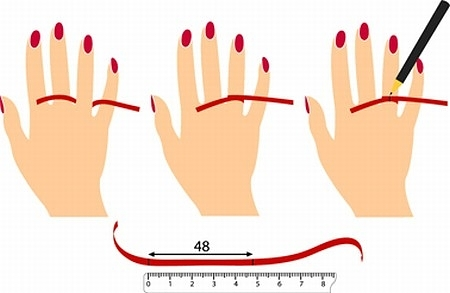 We have already listed some steps for you to choose your right size bracelets. Bear in mind that the more charms you add to your bracelets, the tighter it will become.
Step 1: Use the tape measure or a strip of paper to measure your wrist.
Just wrap the soft tape measure around the broadest part of your wrist and take note of the length. If you are using a plain strip of paper, mark your size with a pen or pencil then use a ruler to measure the length (The starting end of the paper must be at the base of the ruler and marked 0). That would be your wrist size.
Step 2: Add one inch, or 2.5 centimeters, onto this measurement to get the final length of your bracelets.
Please make sure there's enough space to tuck in 2 fingers as this is the space you need to add the charms. If you want to add less than seven charms, add 2 centimeters are ok. If you plan to wear eight or more charms, please add 3 centimeters. If you purchase a bangle, just choose the next size from your actual wrist measurement.
Notes:
1.
A bracelet is perfectly sized when you measure your wrist tightly and add 2 or 3 cm.
2.
If you are between sizes, ask yourself how you like to wear your bracelet. If you wear it tightly choose the smaller size and if you like to wear it loosely take the next size up.
3.
Please be aware that when you receive a new bracelet it will feel stiff, which can make it uncomfortably tight. The bracelet will quickly soften and become more flexible as you wear it.
Bracelet Length
Inches
5.5
5.9
6.3
6.7
7.1
7.5
7.9
8.3
8.7
cm
14
15
16
17
18
19
20
21
22
| Necklace Length (Inches) | Necklace Length (cm) | Style Name | Body Position |
| --- | --- | --- | --- |
| 14" | 35 cm | Collar | Fits close to neck |
| 16" | 40 cm | Choker | Choker |
| 18" | 45 cm | Princess | Hangs at the collarbone |
| 20" | 50 cm | Matinee | Reaches just pass the collarbone |
| 22" | 55cm | Matinee | Falls at or just above the top of the bust |
| 24" | 61 cm | Opera | Sits around the center of the bust |
| 30" | 76 cm | Rope | Drapes below the bust |