Ring Information
Metal Color
Silver
Metal Type
S925 Silver
Recipient
For Her,For Wife
Style
Side Stones
Stone Carat
5.0 carats above
Package Weight (g)
50.0000
Rhodium
Yes. Give Platinum appearance.
Nickel Free
Yes
Gem Information
Stone Shape
Round Cut,Oval Cut
Stone Type
White Sapphire
Stone Color
White Sapphire
Sidestone Type
White Sapphire
Sidestones Cut
Round Cut
Side Stone Size
3.5*3.8 MM
Main Stone Size
10*14 mm
Mainstones Weight
10.55 CT
Stone Total Weight
14.72 CT
Sidestones Weight
4.17 CT
Number of Mainstones
1
Number of Sidestones
24
Mainstones Setting Type
Prong
Sidestones Setting Type
Pave
Joancee Jewelry Customized Service
Customized service of this item is available, please contact our customer service to place orders. Please notice that: the change of the stone color and plating color is available while the material of gemstones and metal cannot be accepted.
Joancee Jewelry Making Process
https://www.joancee.com/review/product/like/
Review by

Maria

(Posted on 10/18/2020)

Absolutely stunning! I am sooooo in love with this ring!! I love how it came with an elegant jewelry box

Review by

kelly

(Posted on 10/12/2020)

In love with this set!! Thank you so much. it's absolutely beautiful



Review by

Audra

(Posted on 3/13/2020)

Very beautiful ring, I just received mine and it gorgeous. It took a while to arrive and came in a nice jewelry box. love it

Review by

Cogar

(Posted on 1/8/2020)

Thank you It's gorgeous I love it and have told so many people around here about your site

Review by

Marlena Whalley

(Posted on 10/8/2020)

Beautiful Ring - Purchased one for my mum and loved it so much I came back for a second for myself! Who needs real diamonds when these are so sparkly !

Review by

Victoria

(Posted on 1/3/2020)

O. M. G.
I LOVE MY RINGS AND I LOVE THE BOX jewelry box they Came in. Im thankful for the free Necklace

Review by

Warner

(Posted on 12/21/2019)

Ring is beautiful and shines bright at the sunshine. But a stone fell out after 14 months. It's out of the warranty period. I contact the customer service and they gave me a coupon code. would buy a new one instead

Review by

JamesPLockhart

(Posted on 9/25/2019)

This ring is stunning. No blemishes.

Review by

Kristen Richardson

(Posted on 7/2/2019)

It's absolutely beautiful. I just got it in the mail so I have only been wearing it for about an hour but I'm in love. The quality is wonderful.

Review by

Rissaa

(Posted on 1/11/2019)

Beautiful! I do prefer it without the 2 side pieces. It looks better that way to me at least.

Review by

Johnslol

(Posted on 12/25/2018)

great quality workmanship. Stones look great. Setting is nice quality. Overall very satisfied. She loves it!!!!
Get $5 Rewards with 3 steps from JOANCEE:
1 .Please upload photos that you are wearing the jewelry by order.
2. If your photos are approved, they'll be live on site. And you will get a $5 Rewards via Paypal within 1-7 working days.
3. The explanation and right to use the photos will be final in Joancee.com.
General

Where is your company located?

Our main office is in Los Angeles, California, while design and manufacturing are headquartered in Hong Kong, and our warehouses are in Malaysia, Dubai, Guangzhou etc.

Is this a legit company?

Please, rest assured that our company is both legal and formal. Joancee.com has been verified by Norton Secured Seal and using HTTPS security protocol. You can pay via PayPal for your order and your payment will be safeguarded. Moreover, you can also look up for real life pictures from our gallery or Facebook page. So we are legit and safe to use.

Do you have any retail locations?

In order to eliminate the extra costs associated with physical storefronts (rent, insurance, staff), we currently only have an online store.

Jewelry

Are the stones real diamonds?

Most of our rings are made of 925 sterling silver and the stones are synthetic white sapphires. Unlike natural gemstones that are mined from the earth using large machinery, explosives, and unsafe working conditions, our stone was developed to be more durable with better optical characteristics than of a diamond while maintaining an ethical standard to protect our environment. You can visit '

The Stone We Use

' page to know more.

Will this jewelry turn my skin green?

Of course no, our jewelry won't turn your skin green. Jewelry that turns your finger green is made of copper, while our rings are made of 925 sterling silver, and the quality has been verified by International Institution SGS.

For the plated jewelry, I worry the color will fade off.

Please DON'T worry. We have a rigorous quality control process to ensure the quality of all of our jewelry. The plating will not fade off naturally. In the rare event that something is wrong with your jewelry, please immediately contact our customer service so we can help solve your problem. If a problem should arise and within the time limit of your warranty, we will make an exchange with you to replace your jewelry. You can visit

30 Days Return

and

One Year Warranty

policy to learn more details.

Orders & Payment

How do I make changes after my order has been placed?

If you receive an order confirmation email and notice a mistake with the order, please contact us as soon as possible. If it's after business hours, leave us a clear and detailed message with your full name, phone number, and order number (if available) via email.

Which payment methods do you accept?

We currently accept payment via all major Credit Cards, Paypal, Western Union & Bank Transfer. If your payment isn't shown at checkout page, please contact us.

How do you secure my payment information?

Joancee is using HTTPS security protocol sitewide and do not process any of your payment information ourselves. Meanwhile we recommend you to use Paypal.

Is my personal information kept private?

We are totally committed to protecting your privacy. We will not disclose information about our customers or visitors to third parties except where it is part of providing a service to you. For more information, please read our

Privacy Policy

in full.

Shipping & Returns

Where do you ship to? How much of the shipping cost?

We can ship our products to every place in the world with international logistics. The rates and shipping time differs from country to country, please visit

Shiping & Delivery

page for more information.

How long until I receive my jewelry?

Total Delivery Time= Processing Time + Shipping Time
Processing time differs from product to product. Some popular styles can be shipped out within 24 hours, while engraved or custom orders may take up to 3-7 business days.
Shipping time depends on the shipping method you selected. For more information, please check

Shipping & Delivery

.

Will I have to pay customs duties, taxes or other fees?

You will not be charged any consumption tax. However, you may need to pay the customs duties by yourself. For more details, please visit

Customs & Tax

in full.

What if I DON'T like my jewelry after receive it?

Okay, DON'T worry about it. We promise an easy 30 days return policy. If you don't like the jewelry unused and in its original packaging. Please contact us first and return it as instructed. Upon acceptance of your return, the funds will be issued to your original payment account. Any promotional gifts must also be returned with your returned item.

What is your return policy?

Currently we offer an easy, hassle-free 30 days return policy. If you are not completely satisfied with your purchase, you may return it for a refund within 30 days of the purchase date. This is our

30 Days Return

policy.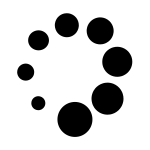 | | | | |
| --- | --- | --- | --- |
| US (JOANCEE) | UK | Inside Diameter | Inside Circumference |
| 4 | H | 14.9mm | 46.8mm |
| 4.5 | I 1/2 | 15.2mm | 48.0mm |
| 5 | J 1/2 | 15.7mm | 49.3mm |
| 5.5 | K 1/2 | 16.1mm | 50.6mm |
| 6 | L 1/2 | 16.5mm | 51.9mm |
| 6.5 | M 1/2 | 16.9mm | 53.1mm |
| 7 | N 1/2 | 17.3mm | 54.4mm |
| 7.5 | O 1/2 | 17.7mm | 55.7mm |
| 8 | P 1/2 | 18.1mm | 57.0mm |
| 8.5 | Q 1/2 | 18.5mm | 58.3mm |
| 9 | R 1/2 | 19.0mm | 59.5mm |
| 9.5 | S 1/2 | 19.4mm | 60.8mm |
| 10 | T 1/2 | 19.8mm | 62.1mm |
| 10.5 | U 1/2 | 20.2mm | 63.4mm |
| 11 | V 1/2 | 20.6mm | 64.6mm |
| 11.5 | W 1/2 | 21.0mm | 65.9mm |
| 12 | Y | 21.4mm | 67.2mm |
| 12.5 | Z | 21.8mm | 68.5mm |
| 13 | Z+ | 22.2mm | 69.7mm |
How To Measure
1. Cut a piece of paper into a long thin strip.
2. Wrap the piece of paper around your knuckle, which is the largest point the ring will have to be able to get over.
3. Mark where the two ends of the paper first overlap with a marker.
4. Measure the length with a ruler.
5. Refer to ring size chart to determine what ring size is.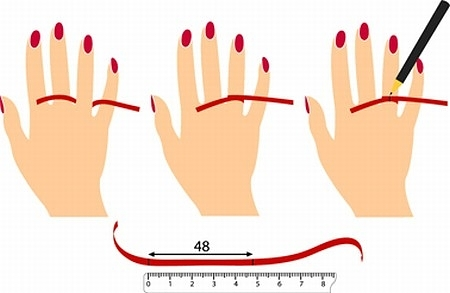 We have already listed some steps for you to choose your right size bracelets. Bear in mind that the more charms you add to your bracelets, the tighter it will become.
Step 1: Use the tape measure or a strip of paper to measure your wrist.
Just wrap the soft tape measure around the broadest part of your wrist and take note of the length. If you are using a plain strip of paper, mark your size with a pen or pencil then use a ruler to measure the length (The starting end of the paper must be at the base of the ruler and marked 0). That would be your wrist size.
Step 2: Add one inch, or 2.5 centimeters, onto this measurement to get the final length of your bracelets.
Please make sure there's enough space to tuck in 2 fingers as this is the space you need to add the charms. If you want to add less than seven charms, add 2 centimeters are ok. If you plan to wear eight or more charms, please add 3 centimeters. If you purchase a bangle, just choose the next size from your actual wrist measurement.
Notes:
1.
A bracelet is perfectly sized when you measure your wrist tightly and add 2 or 3 cm.
2.
If you are between sizes, ask yourself how you like to wear your bracelet. If you wear it tightly choose the smaller size and if you like to wear it loosely take the next size up.
3.
Please be aware that when you receive a new bracelet it will feel stiff, which can make it uncomfortably tight. The bracelet will quickly soften and become more flexible as you wear it.
Bracelet Length
Inches
5.5
5.9
6.3
6.7
7.1
7.5
7.9
8.3
8.7
cm
14
15
16
17
18
19
20
21
22
| Necklace Length (Inches) | Necklace Length (cm) | Style Name | Body Position |
| --- | --- | --- | --- |
| 14" | 35 cm | Collar | Fits close to neck |
| 16" | 40 cm | Choker | Choker |
| 18" | 45 cm | Princess | Hangs at the collarbone |
| 20" | 50 cm | Matinee | Reaches just pass the collarbone |
| 22" | 55cm | Matinee | Falls at or just above the top of the bust |
| 24" | 61 cm | Opera | Sits around the center of the bust |
| 30" | 76 cm | Rope | Drapes below the bust |